This is definitely not a fast meal but it is my absolute favorite. It takes a long time to make and a lot of patience so it has to be a special occasion (or a day with nothing to do

). This year I asked for Pad Woon Sen and Spring Rolls for my birthday dinner. The recipe for Goi Cuon is adapted from Mark Bittman's book The Best Recipes in the World.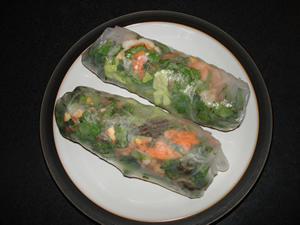 To View the Recipe click here.
We have changed the recipe a bit.
Added Ingredients:
12 medium shrimp, cooked, peeled, and split in half lengthwise or 1 8 oz. block of extra firm tofu
2-3 cloves of garlic minced
2 Tbl. of olive oil
San J Thai Peanut Sauce (dipping) (you can get this at Krogers)
Removed Ingredients:
½ pound cooked pork or chicken, cut into thin stripes
Added Step (1st step in the recipe):
1. Heat up the olive oil on Med. heat and add garlic. When the garlic starts to brown add the shrimp or tofu. We like to cut the tofu block in half and brown each side- this makes it easier to slice. (Plus if you do this with cubes they fall apart easier.) Remove the cooked shrimp or tofu and set aside.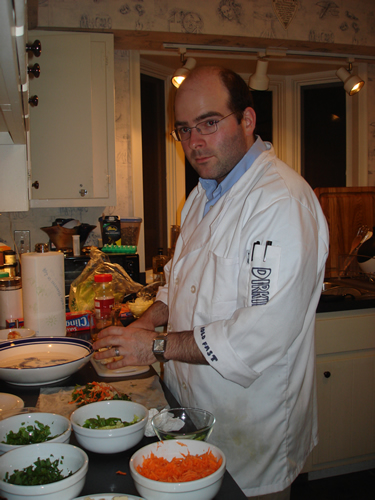 Cooking Tip:
If you are having a hard time with the wrappers- they keep ripping, then you might want to double the thickness of the rice paper wrappers.
We also make our rolls thick so we actually cut up more of the vegetables and herbs. We always seem to run out of mint or cilantro :-). Once again portions — we think– are really up to chef at the time. You can't mess this up.
My friend Sue said that her daughter in-law cuts up all of the ingredients and at a dinner party or family gathering has the guests assemble their own spring rolls. This way guests can pick and choose their ingredients and the chef no longer has to worry about the time it would take to assemble the rolls.
Posted in Appetizer, Fancy, Vegetable, Vegetarian | No Comments »